About Gynaecology & Child Care Department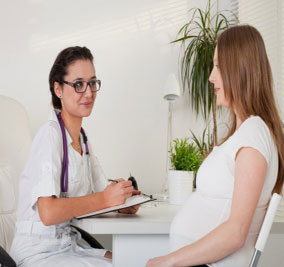 The Centre provides comprehensive services ranging from health promotion to clinical excellence in maternity and gynaecology. We deliver compassionate world-class care with the latest technology in a family centered environment.
Department-Highlights
The department has Birthing Suites and a well equipped maternity complex with fetal monitors to follow the progress of labour and provides the facility for painless delivery round the clock. The patient is under observation by doctors on duty and supported by well trained & experienced nursing staff. There are dedicated operating rooms for cesarean section in the same complex.
Ranjit Hospital vision is to serve women by advancing the safest and most efficacious diagnostic and therapeutic techniques that provide less invasive treatments for gynecologic conditions. Advanced Laparoscopic surgery is offered for removal of tumors & cysts through very small incisions. Minimally invasive surgery is used for removing even large sized uterus and tumors with the help of harmonic knife.
Highly skilled services are available for Hysteroscopy surgery in the management of complex disorders like double uterus, intrauterine fibroids and adhesions (without any incision or stitches).
Maternity Services
Birthing is the most beautiful moment in a woman's life. At Ranjit Hospital we understand this and as you journey into motherhood our maternity services will make your experience a pleasant and enjoyable one.
At Ranjit Hospital parents & other family members are encouraged to be actively involved during pregnancy, childbirth and postnatal care. The Suite room is the most luxurious room. Your spouse or support person is encouraged to attend this joyous event.
Qualified, dedicated and overly helpful staff are available, to monitor patients and their babies. Round the clock Labour room facility is available. 24 hrs transport services by fully equipped ambulance can also be availed by the patients.
Maternity services Include
Preconceptional assessment and counseling
Comprehensive Antenatal care
Pain relief during labour
Postnatal care
Tertiary level nursery and neo-natal Intensive Care Unit (NICU).
High Risk Pregnancies
A high risk pregnancy is that with a significant probability for a poor maternal or a fetal outcome. Our High risk delivery team at Ranjit Hospital is adequately trained and equipped to ensure a safe delivery for such patients.
High risk pregnancy includes those with Obstetrical Complications like:
IUGR
Preterm
Pre Term Rupture Of Membranes, PPROM
Post dated pregnancy
Oligo and Polyhydroamnios
PIH
Multiple Pregnancy
Placenta Previa and Accidental Hemorrhage
Fetal Malformations
Rh Isoimmunization
Recurrent Pregnancy loss
Family history of genetic diseases
Consanguineous marriages
High risk pregnancy includes those with Preexisting medical complications:
Diabetes mellitus
Hypertension
Heart Disease
Thyroid disorder
Renal disorder
Epileptic disorder
Hematological disorders like Anaemia
Thrombocytopenia, Liver disorders
Gynae Endocrinology
The service deals with endocrinal or hormonal dysfunction in women. Though hormonal problems are more common at the two extremes of reproductive life they can happen at any time in a women's life.
The aspects dealt with are:
Growth and development
Polycystic ovarian syndrome
Peripubertal obesity
Hirsutism
Menstrual problems
Problems related to sexuality and contraception
The gynecology Department has special clinic for adolescents & post menopausal women, as their problems are different and they need special attention. Adolescent clinic It looks at puberty and related problems eg menstrual cramps, irregular cycles & teenage pregnancies.
---
Best Gynaecologist in Amritsar
Maternity hospital in amritsar
best maternity hospital in amritsar
gynecologist in amritsar
best gyne in amritsar
Best Gynaecologist doctor in Amritsar
Top Gynaecologist Obstetrician Doctors in Amritsar
Gynaecologist in near me
Gynecologist obstetrician Amritsar