Advantages of Health Tourism in India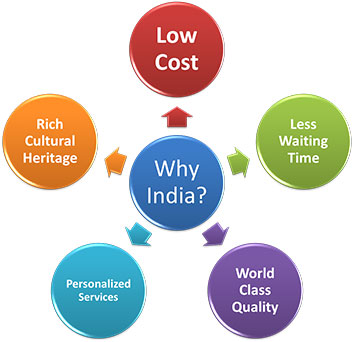 India is a leading player in the medical tourist/healthcare Facilitation industry. It is increasingly emerging as the destination of choice for a wide range of medical procedures. There are numerous advantages of going to India for treatment. Some of the advantages of going to India for medical treatment are:


Advantages of Medical Tourism in India
Medical tourism is one of the quickest and largest growing industries in the world. As the number of uninsured people and those with high deductibles continue to go up, many of them opt to be treated outside their native land, where they can manage to pay for the treatments they need in a timely fashion. Medical Tourism in India offers low cost, or cost effective, medical treatments with no waiting lists and accessibility of skilled and experienced doctors so medical tourists around the globe are flocking like never before. Now day's expectation is that Medical Tourism will continue to grow up at a rapid rate of speed and continue offering medical treatments to tourist at a fraction of the cost they can get it at home for.
India is considered among the best in international medical tourism destinations. Patients get excellent healthcare services in India. Many foreign nationals worry about the quality of facilities and care they will receive out of the country. There are many well qualified doctors and hospitals in India. Medical procedures often cost half as much (or less) in India as compared to the U.S. Even including the cost of travel and a hotel stay, it can be cheaper to have procedures done out of the motherland than to have them done at home. Low cost treatment does not necessarily mean lower healthcare standards.
A wide range of exceptional medical treatment packages are offered in India at a very reasonable price. All the hospitals in India offer advanced medical technologies & health care facilities by using the same medical knowledge and technology at a substantially low price.Doctors in India are well trained and experienced, multi-lingual, with quite a lot of of them having undergone professional training in US ,you can be assured that you are in the most capable of hands.
Some of the other advantages include
Specialty treatment
Treatment-cum-leisure destination
Availability of medical experts
Low-cost consulting fee
Low treatment cost
No waiting period for treatment
Availability of advanced equipments
The most well-known medical services that are growing at a faster rate in India and are also included as a part of medical tourism advantages.
These treatments are
Orthopedic Surgery
Eye surgery
Spine surgery
All types of bone and joints treatments
Cosmetic surgeries
Blood vessel treatments
Stomach related treatments
Heat related treatments and surgeries
Ayurveda treatments and therapies
Dental treatments
Ear, nose and throat (ENT)
Laser hair removal treatments
Hair implants and treatments
Spa and beauty treatments
Infertility Treatments
India also offers traditional methods of alternative treatments that include
Meditation and Yoga
Ayurveda
Music Therapy
Homeopathy
Aroma Therapy
Naturopathy
Pranic Healing
Reiki
Major Features of Medical Tourism in India
100% Trustworthy
Top quality healthcare services at low cost
Expert team of professional doctors
High-end healthcare and medical facilities
Geographical Profile of India
India is one of the oldest civilizations in the world with a kaleidoscopic variety and rich cultural heritage. It has achieved multifaceted socioeconomic progress during the last 58 years of its Independence. India has become self-sufficient in agricultural production, and is now the tenth industrialized country in the world and the sixth nation to have gone into outer space to conquer nature for the benefit of the people. It covers an area of 32,87,263 sq km, extending from the snow-covered Himalayan heights to the tropical rain forests of the south. As the seventh largest country in the world, India stands apart from the rest of Asia, marked off as it is by mountains and the sea, which give the country a distinct geographical entity. Bounded by the Great Himalayas in the north, it stretches southwards and at the Tropic of Cancer, tapers off into the Indian Ocean between the Bay of Bengal on the east and the Arabian Sea on the west. Lying entirely in the northern hemisphere, the mainland extends between latitudes 8°4' and 37°6' north, longitudes 68°7' and 97°25' east, and measures about 3,214 km from north to south between the extreme latitudes and about 2,933 km from east to west between the extreme longitudes. It has a land frontier of about 15,200 km. The total length of the coastline of the mainland, Lakshwadeep Islands, and the Andaman and Nicobar Islands is 7,516.6 km.
---