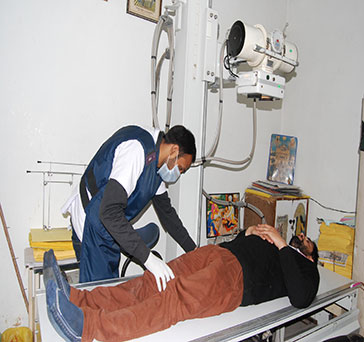 Plain x-rays are provided at Ranjit Hospitals. We have a walk-in service for outpatient referrals and an appointment service for GP requests. An x-ray obtains a picture of the inside of a body part. It involves a small dose of radiation to the area to be examined. The picture is captured and stored electronically. You may be asked to change into an x-ray gown for some examinations. You will be called into the examination room and your identification and referral details will be checked before you are x-rayed. The radiographer will position you for the x-ray. This may be standing, lying or sitting down. Images are stored on a hospital wide computer database, so they can be viewed all over the hospital. Most x-rays take about 10 minutes, but may be longer if multiple areas are requested.
Outpatient/emergency departmenty x-ray services
A walk-in service is provided for requests made via emergency and outpatient clinics. You will normally be provided with a request form to take to the x-ray department by the referring department.
Inpatient x-ray
You will be collected from the ward by a porter and taken to the x-ray department. The examinations carried out by a state registered radiographer. We are obliged to ask all female patients aged between 11-55 years whether they could be pregnant as an x-ray could damage an unborn child. We ask patients to sign that we have asked this question.