About Paediatrics Department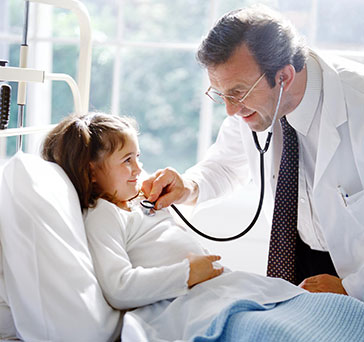 Paediatrics is a medical specialty that manages medical conditions affecting babies, children and young people. Paediatricians are doctors who look at specific health issues, diseases and disorders related to stages of growth and development.

With the overriding principle of "Beginning with care" we are glad to have played a major role in saving thousands of critically ill children. One of the very few centres in India which aims at providing quality health care facilities for children up to 18 years, we bring unique and high-level care in pediatric services including Inpatient, Outpatient, Intensive Care and Sub Specialties.

We seek to provide pediatric patients and their families easy access to the most advanced and affordable clinical care. As an extension of our commitment to quality healthcare, our experts have built several pediatric healthcare programs that set national and international standards for quality and take initiatives to train the next generation of healthcare leaders through our academic and teaching programs.

This is an area of medicine where the doctor works closely with the patient and their family. Paediatrics is a diverse, stimulating and hugely rewarding specialty. As a paediatrician you could be working in:


Our Mission
Superior Care - Excellence in patient care with continuing commitment and compassion
Young Generation - Teaching and educating the next generation
Recovery - Distinctly personalized healthcare for a faster recovery in healthy family environment.
United Effort - Greater clinical outcomes through teamwork and continuous improvement
Affordable - Patient-centric affordable care for all sections of society
Outpatient Services
General outpatient clinic
- Looks after basic health care needs of children including growth and development monitoring, ailments and regular health checks.
Asthma clinic
- Strives to increase understanding of asthma in children, improve awareness and quality of life through symptom control, and maintaining daily activities.
Epilepsy clinic
- Offering most up-to-date information on epilepsy, including personalised attention to the practical implications of living with the epilepsy.
Pediatric orthopedic services
- Deals with ailments including intoeing, outtoeing, flat feet, club feet, scoliosis, knee pain, fracture, bow legs, etc. We provide services for regular follow ups and therapies.
Pediatric ophthalmology
- Consultations on various ophthalmic diseases including visual development and vision care also providing comprehensive services for retinopathy and refractive errors.
Psychology clinic
- Our services apply principles of behavior, learning and psychosocial adaptations to enable a child cope with ever increasing and extraordinary stressful environments that they are exposed to due to our current lifestyle.
Pediatric neurology
- Offers evaluation and management of children with diseases affecting nervous system and muscles, epilepsy, headaches and more.
Pediatric dentistry
- Provides dental care of children in co-ordination with our pediatric team. Dental treatment to no longer an unpleasant experience.
Allergy clinic
- Offers personalised service to diagnose and treat allergies, using scientifically validated diagnostic tests and internationally recognised allergic treatments.
Pediatric neurology
- Offers evaluation and management of children with diseases affecting nervous system and muscles, epilepsy, headaches and more.
Pediatric hematology
- Cares for all blood disorders, including challenging diagnostic or therapeutic problems.
Inpatient Services
PICU
- With supporting infrastructure and personnel, this caters to children with serious illnesses like status epilepticus, status asthmaticus, respiratory failure, pneumonia, etc. Our experts provide care based on individual needs with the help of leading surgeons, neurologists, cardiologists, etc.
Pediatric Neurology
- Various diseases affecting the nervous system are comprehensively evaluated and guidelines for follow up care and home care are provided.
Pediatric Hematology
- Provides inpatient services for transfusion, infusion, chemotherapy as well as day care procedure.
Pediatric Surgery
- Deals with a wide range of surgical procedures required in children and focuses on the unique physiology and anatomy of the young patient, including newborn surgery, correction and treatment of various congenital anomalies and care of the child with accidental trauma.
Pediatric Nephrology
- Facilities to treat children with hematuria, proteinuria, hypertension UTI, calciuria, acute renal failure, nephrotic syndrome, electrolytes and acid base disturbances.
NICU Transport Services
TA team effort is essential to provide the best care for critically ill newborns and this starts with the initial health care provider. When faced with a critically ill newborn, it is necessary to have a medically comprehensive and efficient method of transferring the baby to a Neonatal Intensive Care Unit.
The neonatal transport service of Ranjit Hospital's Child care is the first of its kind providing the safest transport service. Ranjit Hospital has transported several newborns and children from long distance with the utmost care and monitoring. Our ambulance service is uniquely equipped with multi-parameter monitors, syringe pumps, syringe drivers, ventilator, and a comprehensive array of monitoring and ventilator support systems to meet the needs of the critical infant.
Neonatal transport system staff provides specialised and expert care for ill neonates beginning with arrival and continuing through transport and admission to NICU whatever the duration of transport. Accompanied by critical care physicians and a neonatal nurse attendant during the journey, the child is benefited from the expertise of the team in all subspecialties that care for newborns.
Specialized Services
Sukhada
- Boasts of facilities for X-Rays including portable equipment for NICU and PICU and ultrasound facilities for outpatients as well as inpatients. Regular portable ultrasound monitoring forms a part of a protocol for preterm and other sick babies in the NICU.
Nutrition Clinic
- Equipped with all possible modern equipment, available round the clock, including auto analyzer, cell coulter, coagulochek, glucometers and more.
Pharma
- Provided to patients keeping in mind the needs of children and parents, this is an important diagnostic tool in the management and care of newborns in the NICU and children's in PICU.
Operation Theatre
- A fully equipped state-of -art operation theatre catering to the surgical needs of neonates and pediatric patients.
Other Services
General paediatric units seeing a wide range of conditions affecting children
Community-based settings managing long-term care of children and young people
Highly specialised units working in a wide range of sub-specialties such as neonatal medicine
All kinds of respiratory problems like bronchitis , asthma, respiratory infections.
All kinds of GIT problems like Gastroenteritis, Diarrhea with dehydration etc.
Seizures.
Congenital heart diseases.
Growth retardation.
Developmental delay.
Newborn clinic.
Vaccination facility.
---